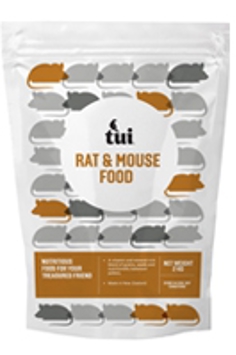 Tui Rat & Mouse Food
Your treasured pets deserve the best. Tui Rat & Mouse Food is a nutritionally balanced food that pets love to eat as an everyday food.
Specially blended in New Zealand from high quality ingredients, Tui Rat & Mouse Food contains no artificial preservatives, and is enriched with vitamins and minerals to keep your treasured friend happy and healthy.
Crude Protein (max) 18%
Crude Fat (min) 5%
Crude Fibre (min) 18%
Benefits
A vitamin and mineral-rich blend of grains, seeds and nutritionally balanced pellets.
Made in New Zealand.
Directions for use
Feed approximately 3-4 tablespoons to rats, and 2 tablespoons to mice each day.
Adjust as needed if your pet's weight fluctuates.
Change leftover food daily.
Make sure feeding utensils are clean and sterile.
Keep fresh clean water available at all times.
Feed fresh fruit and vegetables regularly.
Tui Rat & Mouse Food reviews
Be the first to write a review